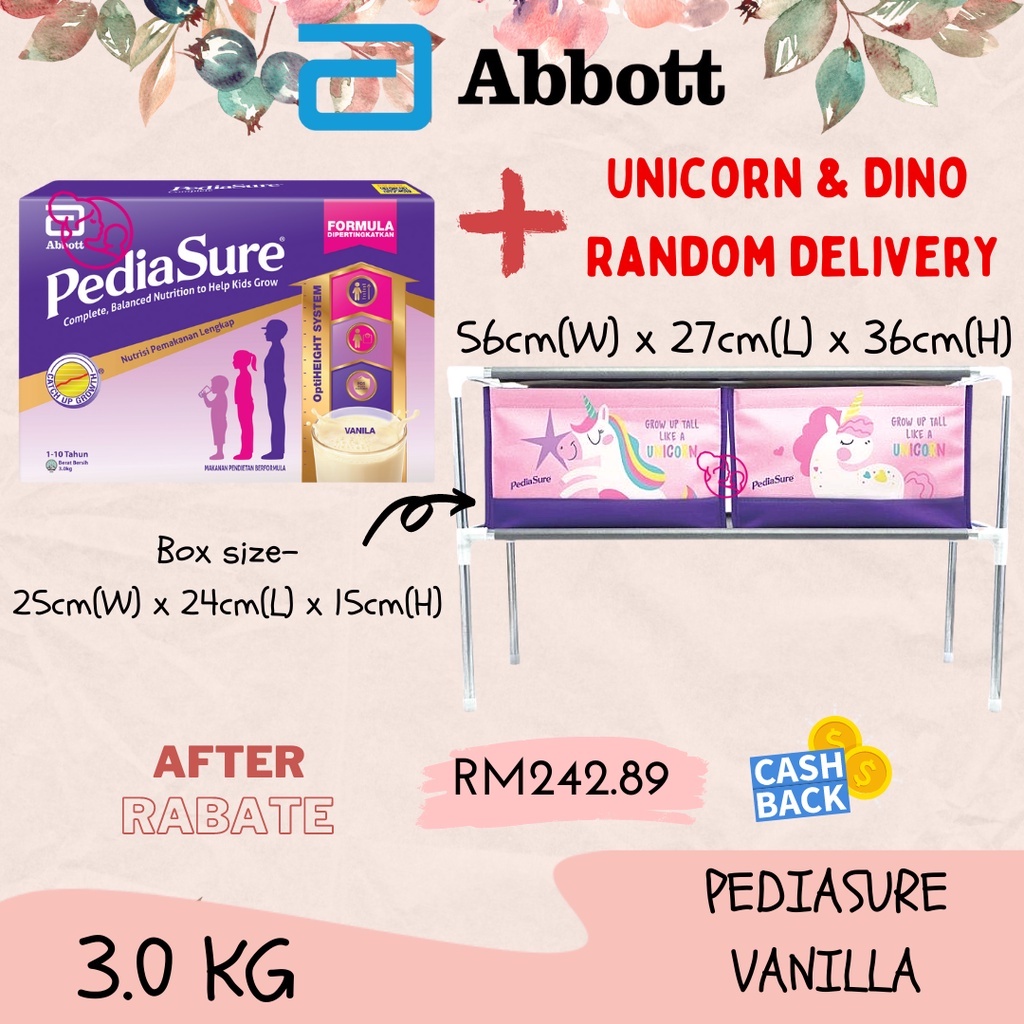 [RM 234.72 AFTER SHOPEE COIN REBATE] PediaSure Complete Abbott Vanilla/Chocolate - 3kg Exp: 06/2023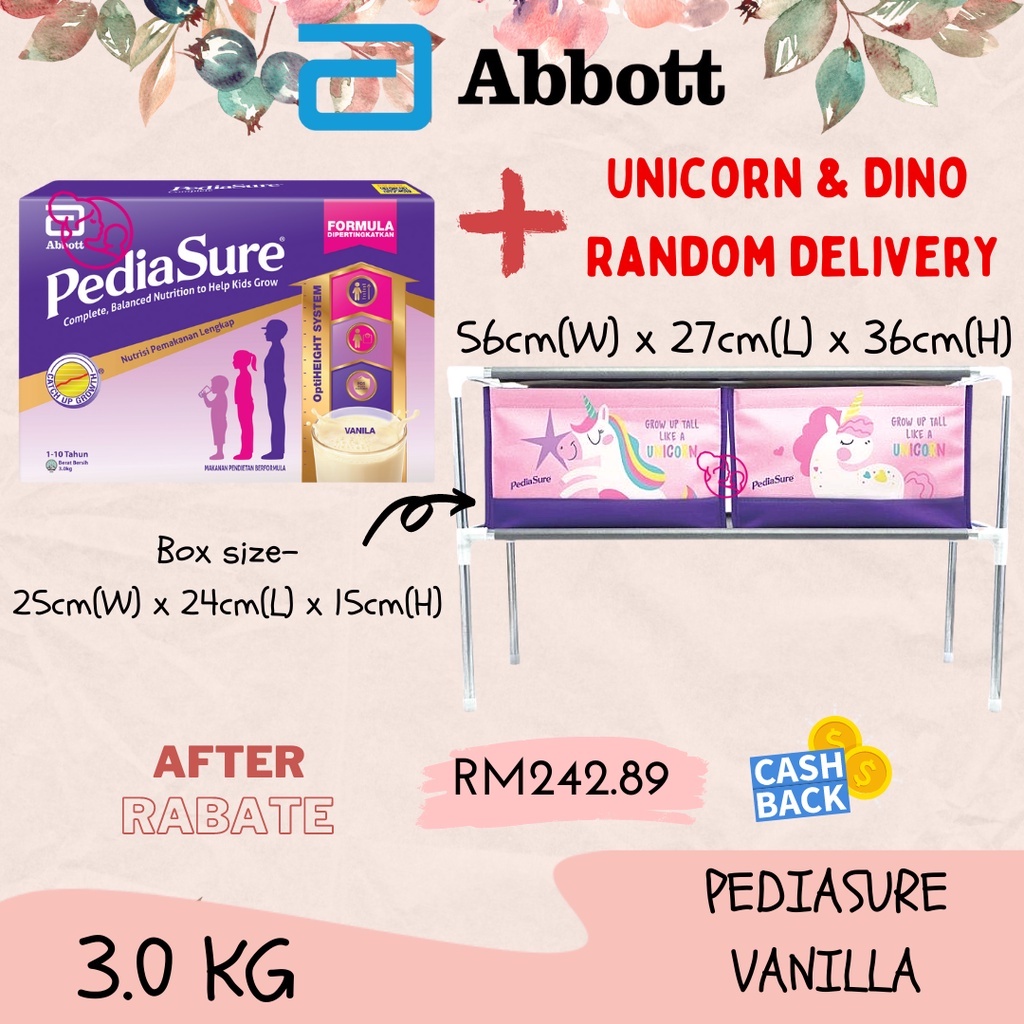 [RM 234.72 AFTER SHOPEE COIN REBATE] PediaSure Complete Abbott Vanilla/Chocolate - 3kg Exp: 06/2023
Go to shop
Shopee is safe, allow to return, free shipping (*)
Price history
| Giá cũ | Giá mới | Thay đổi | % | Đ. giá | Thời diểm |
| --- | --- | --- | --- | --- | --- |
Product description
Buy [RM 234.72 AFTER SHOPEE COIN REBATE] PediaSure Complete Abbott Vanilla/Chocolate - 3kg Exp: 06/2023 at Shopee Malaysia with affordable price and top guarantee. You can get an Extraordinary deals and Save Save -10% when you purchase this item in Sale Today.
We offer price history [RM 234.72 AFTER SHOPEE COIN REBATE] PediaSure Complete Abbott Vanilla/Chocolate - 3kg Exp: 06/2023.
***This is Offer Price,TOP of The Box Will Tear Off,because need for rebate from Pediasure company*** ***If you mind for this please don't buy*** ***100% Original*** ***这是价格优惠,盒子上部会撕下,因为要向公司索取回扣,介意者勿下单哦*** ***100%正品*** PediaSure® is a nutritional supplement that provides complete, balanced nutrition for children from age 1 to 10 – those special years of rapid growth and mind development. When consumed in proper amounts, PediaSure® is scientifically formulated to provide 100% or more of US Dietary Reference Intakes for proteins and 25 vitamins & minerals that are required for growth and development.2 PediaSure® also contains FOS, probiotics and MCT oil. Formulated with more than 25 essential nutrients, PediaSure® is scientifically formulated to help increase height and weight1 and reduce number of sick days2. It is also Lactose free. PediaSure® also contains nutrients such as Taurine, Choline and Omega 3 & 6 to support mind development. Usage With the Sure3 System, PediaSure® Complete provides complete and balanced nutrition for children ages 1 to 10 years old with feeding concerns. Some common examples of children who are hard to feed include: Eats very little. Very active but eats little Accepts only a few types of food. Highly selective in food intake Eats few fruits and vegetables. Refuses to try new foods. Disrupts or prolongs mealtimes. Poor appetite. PediaSure® Complete is also suitable for children who: need a nutritious snack or supplement. are lactose intolerant. are recovering or have recovered from medical conditions. Features New Triple Protein Complex 3 protein sources – milk protein concentrate, whey protein concentrate and soy protein isolate provide a scientifically balanced blend of all essential amino acids to support growth and development. Advanced Carbohydrate Blend Blend of 3 carbohydrates sources to promote maximum digestion and absorption for balance energy release. Unique Lipid Profile & Medium Chain Triglycerides (MCTs) (with AA & DHA) Supports nutrients absorption and mind development. PediaSure® Complete meets or exceeds 100% of the US Dietary Reference Intakes (DRIs) for protein, 25 essential vitamins and minerals in approximately 1000ml for children aged between 1- 8 years and 1500ml for children aged 9-13 years. Contains FOS, a non-digestible dietary fibre that is the preferred food of good bacteria. Contains live cultures of Bifidobacterium lactis and Lactobacillus acidophillus which are good bacteria. Contains 50% more calories to provide extra energy for growing children. (Calorie Density- 1 kcal per 1 ml) Lactose and gluten-free (not for children with galactosemia). Children at nutritional risk. Children in both groups received nutritional counseling. In children aged 3-5 years of age who had at least one episode of illness and were fed PediaSure® Complete with synbiotics. Results in other age groups varied.