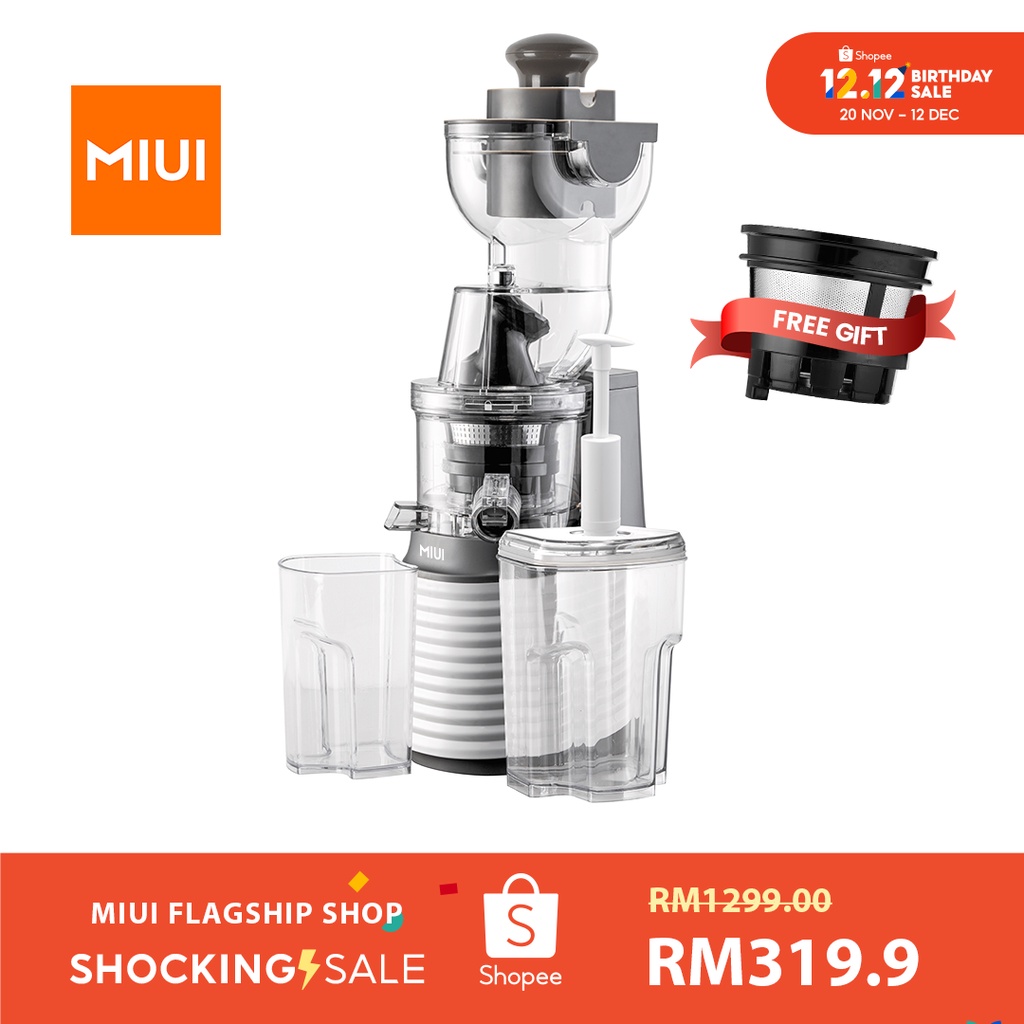 MIUI New FilterFree slow juicer with Stainless Steel strainer (FFS6),Juice Symphony 250W,2021 Summer New release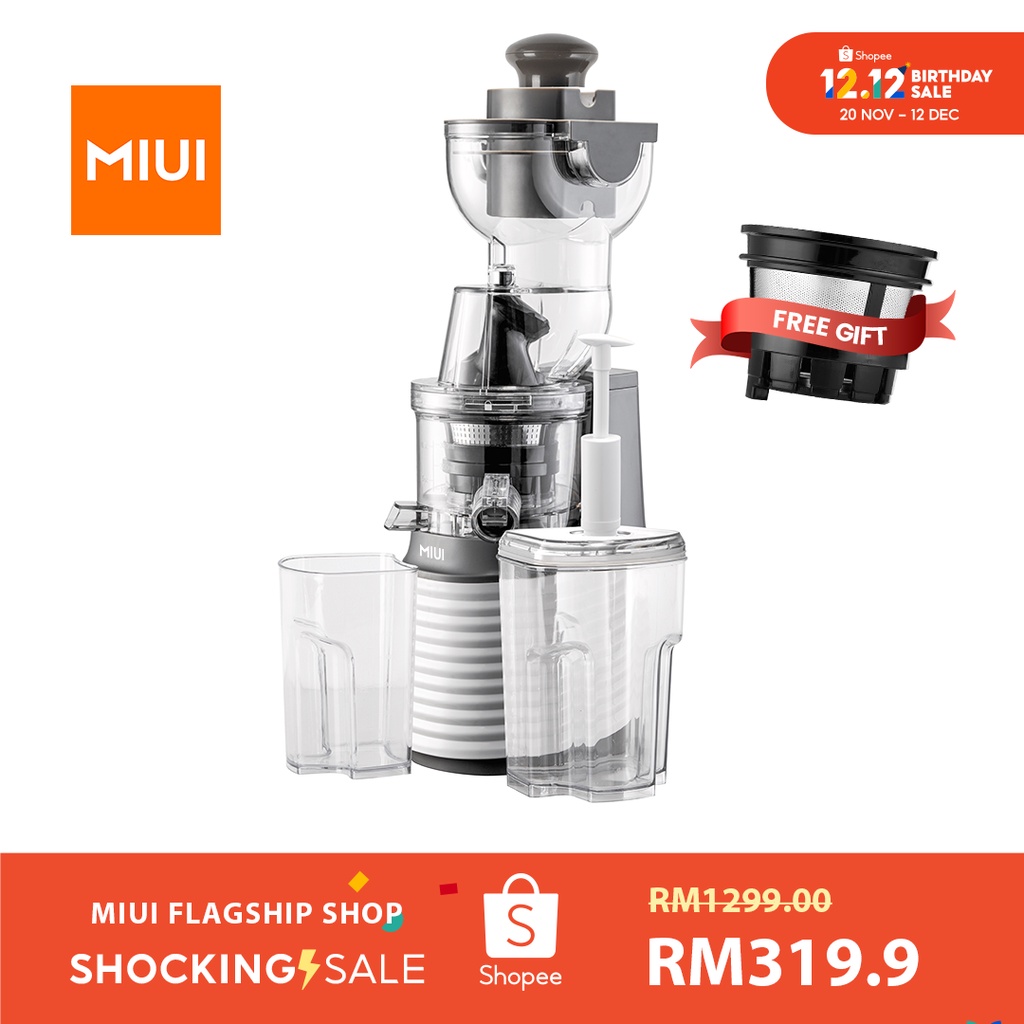 MIUI New FilterFree slow juicer with Stainless Steel strainer (FFS6),Juice Symphony 250W,2021 Summer New release
Go to shop
Shopee is safe, allow to return, free shipping (*)
Price history
| Giá cũ | Giá mới | Thay đổi | % | Đ. giá | Thời diểm |
| --- | --- | --- | --- | --- | --- |
Product description
Buy MIUI New FilterFree slow juicer with Stainless Steel strainer (FFS6),Juice Symphony 250W,2021 Summer New release at Shopee Malaysia with affordable price and top guarantee. You can get an Extraordinary deals and Save Save -10% when you purchase this item in Sale Today.
We offer price history MIUI New FilterFree slow juicer with Stainless Steel strainer (FFS6),Juice Symphony 250W,2021 Summer New release.
New MIUI Filterless Slow Juicer (FFS6,250W) Thanks to MIUI's technology leader in the slow juicer industry, this new version creates a whirlwind of juicer purchases. The torque of the motor used in our professional series juicers has been increased by 50 kilograms of force centimeters over that of the motor in our domestic models, thus offering greater power and efficiency. 【2.0 Magic Mill Circle - Rotating Design】 The 78mm diameter can hold whole fruits or large quantities of cut fruits. This is a really big gauge. The design of the wind wheel type feed port provides a space for all the fruit to slide. Compared with the first generation, our design is more reasonable. 【New FilterFree 6th generation】 There is no doubt that easy cleaning is the highlight of Filterfree's most innovative technological innovation, so you don't have to worry about your choice. It is made from durable polyeimide (PEI) and high-strength food-grade stainless steel, allowing it to effectively withstand the high loads within the chamber. 【Buy One Get One Free - 2 Options】 In order to take into account the traditional uses of users, we provide the first batch of users with Porous Metal Filters as a free alternative filter. Users can compare with it and feel the excellent FFS experience. 【BPA-free nature's keeper】 MIUI uses high food grade materials, this juicer is just a "Gatekeeper" for nature's fruits and vegetables, providing you with fresh nutrients in a safer way. 10 seconds to install, easy to do. Please make sure that the whole installation is presented in an easy way, making it a cake for you. 【Cooler and more efficient】 MIUI always offers users a more efficient fruit and vegetable juicer. New removable plug design for a higher seal and a more comfortable operating experience. Thanks to the latest ramp design at the bottom of the mixing cup, you don't have to tilt the machine yourself to get all the juice. Enjoy every drop of fresh juice with MIUI. 【Easy to clean】 They are also easier to clean, offering greater efficiency and convenience for users. 【Lower noise - gentler care】 The MIUI Juicer runs at 60 rpm so as not to disturb other family members, especially sleeping babies. 【Auto power off protection design】 The MIUI FF6 Juicer is newly designed with overheat protection. When the machine works longer than the rated time or the internal temperature of the machine is too high, the machine will stop working by automatically cutting off the power. This function effectively protects the motor and prolongs the life of the juicer. Of course, you can turn the machine back on after it has cooled down. 【Beautiful gift-empty】 Thank you for your interest and support with MIUI products, MIUI offers you an additional little gift on the new juicer: empty. It can be used with a MIUI juice cup to help you store your juice for longer. 【Other functions: make ice cream】 * This juicer can be used with an ice cream strainer to make ice cream. The ice cream strainer is not included in the product accessories. If you need to make an ice cream strainer, please click the link to buy ice cream strainer accessories.