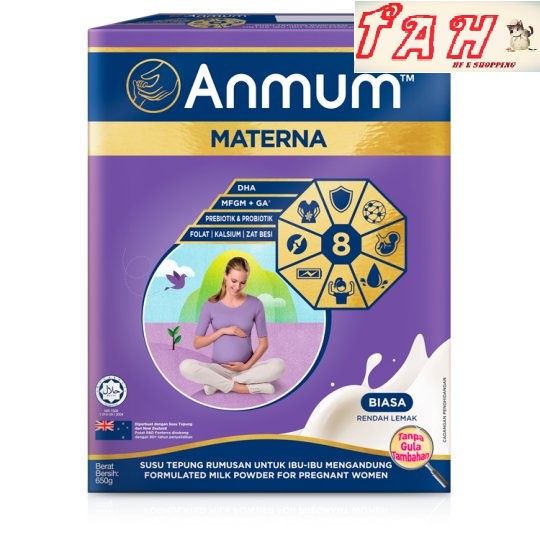 ANMUM MATERNA(PLAIN/CHOC) 650G(New Packing)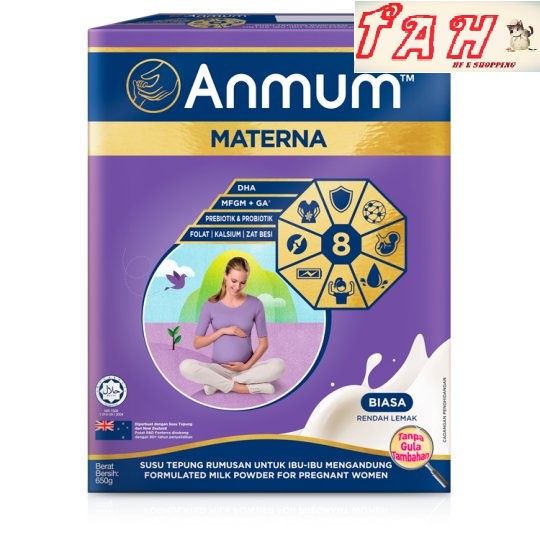 ANMUM MATERNA(PLAIN/CHOC) 650G(New Packing)
Go to shop
Shopee is safe, allow to return, free shipping (*)
Price history
| Giá cũ | Giá mới | Thay đổi | % | Đ. giá | Thời diểm |
| --- | --- | --- | --- | --- | --- |
Product description
Buy ANMUM MATERNA(PLAIN/CHOC) 650G(New Packing) at Shopee Malaysia with affordable price and top guarantee. You can get an Extraordinary deals and Save Save -10% when you purchase this item in Sale Today.
We offer price history ANMUM MATERNA(PLAIN/CHOC) 650G(New Packing).
Pregnancy is a time when nutritional needs are higher and meeting those needs has a positive effect on both mother and foetus. It is difficult to get all extra nutrients from your usual diet. Research has shown that as many as 4 out of 5 women in Asia do not have sufficient folate*, which critical to development and growth of the foetus. Study has shown that women who consume folic acid fortified milk have increased in blood folate level**. Anmum Materna™ is the only high folic acid milk powder that is clinically tested. Anmum Materna™ is specially formulated to support the nutrition needs during pregnancy for both mother and foetus, and contains essential nutrients as follows: DHA Anmum Materna™ contain DHA. Folate Essential for growth and division of cells in both mother and foetus. Division of cells occurs rapidly in the developing foetus to form important organ such as brain. Inulin DR™ 10 Inulin is a prebiotic, meanwhile DR™ 10 is Bifidobacterium lactis, a type of live bacteria. It is important for pregnant mums to have a good intestinal environment for effective absorption of nutrients. Calcium Supports development of strong bones and teeth. Zinc Essential for the growth of maternal tissue and foetus. Iron+ Vit B12 Are factors in red blood cells formation that support 50% blood volume increase during pregnancy.